Vinnies WA Emergency Assistance continues through Lotterywest grant.
Vinnies WA will continue to support vulnerable Western Australians thanks to a $1.4 million grant from Lotterywest presented by Simone McGurk MLA, Minister for Community Services and Lotterywest General Manager for Grants and Community Development.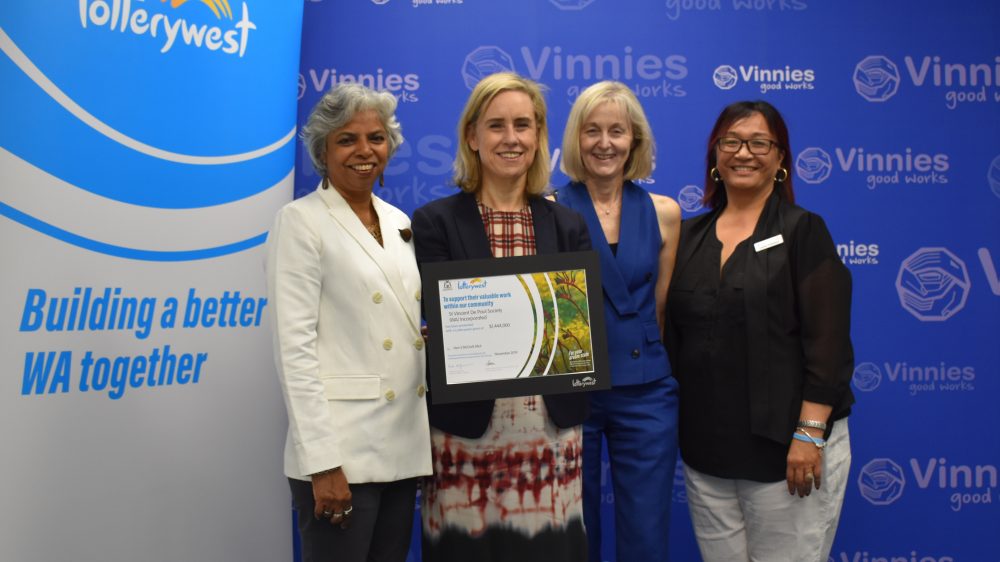 (From left: Gladys Demissie, Vinnies WA State President, Simone McGurk MLA, Minister for Community Services, Susan Rooney, Vinnies WA CEO, Lorna Pritchard, Lotterywest General Manager Grants & Community Development)
The funds receivied will go towards Vinnies Emergency Assistance program which provides immediate financial or material support such as food, help with paying utility bills or rent, household goods and budget assistance or financial advice and is part of Vinnies person centred care approach, where people requesting help participate in the development and monitoring of their care to make sure it meets their needs.
Last year Vinnies WA answered over 38,000 calls and helped support over 54,000 people across the state through its Emergency Assistance program and Vinnies State President Gladys Demissie says this grant helps Vinnies continue to respond directly to the needs identified in the community.
"Vinnies is able to deliver Emergency Assistance through our home visitations which is an opportunity for us to meet people face to face and get a genuine understanding of the challenges they are facing. Being able to continue this core work is incredibly vital for both the community and people experiencing hardship and our members who value the experience of reaching out to those in need." Ms Demissie said.
During the visit, Community Services Minister Simone McGurk had the opportunity to understand how Vinnies Emergency Assistance is delivered and how vital it is for the people it is that receive it. Minister McGurk met with a Vinnies client who spoke of how important it was for her family to have received assistance which prevented her and her children from becoming homeless.
Allan Jackson, a Vinnies volunteer spoke to the Minister about his work delivering Emergency Assistance through home visitations. Volunteers respond to people's requests who are in need, by providing assistance such as food, clothing, household goods, help with utility bills, rent, as well as referrals, advocacy friendship and emotional support.
The State Government has a long history working with Vinnies and believes that this collaboration means people in crisis can receive kindness, support and a pathway for a better future.
As one of the largest and longest serving charities in Western Australia, Vinnies WA is grateful to Lotterywest and the State Government for the funds received so our ability to support and change the lives of Western Australians in need can continue.